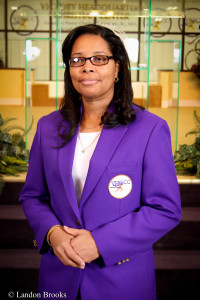 Evangelist Helen D.Johnson
Evangelist Helen Johnson serves in various roles of leadership at Victory Headquarters Christian Center. She has been married to Elder Johnnie Johnson for 34 years. To their union they have three adult sons, three god-daughters, 2 daughter in laws, five grandchildren, and three god-grandchildren. Evangelist Johnson is originally from Hertford and Winfall, NC. Evangelist Helen Johnson is retired from the United States Army where she served in the U.S. Army Chemical Corp. She accepted Christ on the 4th of July in 1979 and it was truly an Independence Day. At Victory she serves in many ministries and different capacities such as: Vice President Evangelistical Ministry, President of the Usher Board, and member of the Outreach Ministry, Missionaries, Youth Department, Prison Ministry, and the Senior Citizen's Ministry. Evangelist Johnson's favorite scripture is Psalm 91 in its entirety.
Evangelist Johnson offers these words of encouragement: There are no boundaries in the power of God! There are no limits on what God will do. What He did for others he will do for you!
Don't allow others to make you doubt!