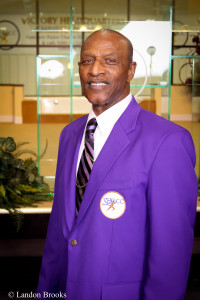 Elder Ruail Dunn
Elder Dunn is the Assistant Pastor of Victory Headquarters Christian Center. He is the devoted husband to Missionary Evelyn Dunn, who serves faithfully at Victory Headquarters Christian Center as well. He has 6 children, and 10 grandchildren. Elder Dunn is originally from El Dorado, Arkansas, and was a Supervising Chemist before he retired. At Victory, he serves on several ministries. He serves as the Sunday Morning Empowerment Coordinator for the Christian Education Department, Finance Committee, and the Discipleship Ministry. Elder Dunn has been saved for over three decades. He accepted his call into the ministry in 1993, and was ordained as an Elder in 1997.
His favorite scripture is: Except the LORD build the house, they labour in vain that build it: except the LORD keep the city, the watchman waketh but in vain. Psalm 127:1
Elder Dunn offers these words of encouragement: Now faith is the substance of things hoped for, the evidence of things not seen. Hebrews 11:1. We need to always keep a happy anticipation of that good thing that is to come.