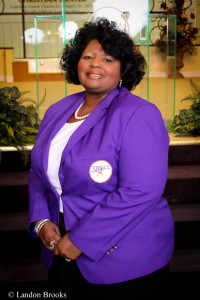 Evangelist Missionary Teresia Hall
Evangelist Teresia Joyce Moore- Hall serves as the Church Administrator of Victory Headquarters Christian Center. She is the devoted wife of Deacon Thomas Hall, and has one son Taurean Hall, and daughter in law, Francesca Hall and a precious grandson Taurean Jr who is affectionately called JR. Evangelist Hall is from Gadsden, AL. Currently, Missionary Hall serves as principal of Cobb Preparatory Academy in Anniston, AL. Evangelist Hall has an Bachelors in Business Administration, Masters in Elementary Education with an Educational Leadership endorsement, and an Educational Specialist Degree. She is an ordained Evangelist Missionary, Finance Secretary, and members of the Missionary Society Circle, and Christian Women's Counsel. Missionary Hall firmly believes that salvation in Christianity is based upon the fact that Jesus Christ, the Son of God, died on the cross for our sins. Her favorite scripture is Psalm 121:1- I will lift up my eyes unto the hills from whence cometh my help, and my help cometh from the Lord.
Evangelist Hall offers these words of encouragement: Only what we do for Christ shall last. It is God that we should give all of the honor and glory for the things that he has done.