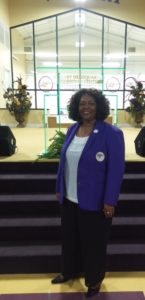 Missionary Lillie Brown
Leadership Position-Ministry
: Evangelist-Missionary / Bereavement / Crisis Care
Family:
God has blessed me with five children :beginning with the eldest , Erick Hunt (deceased), Oqua(Hunt),Cook, her husband Calvin Cook and their two sons Demetrius and Malachi ,Tashica Hunt, Brown and her two sons Jamin and CL Wiley IV ,Lewis Brown 111,and his wife Tashima (Gordon)Brown, one daughter Ta'Jamere, and Prentiss Brown.
Hometown:
Anniston AL
Occupation:
Self Employed
Ministry:
My ministry is to represent the Pastor and church with words of encouragement to members and immediate family, with a card, flower and food. And anything else the family might need during their time of hospital stay or bereavement.
Salvation Experience:
My salvation experience has taken me down many roads some hard and some favorable, there were times when I wonder if God was even there. And when those times came trouble on my both side , and in front ,I couldn't see my way clear and I just wanted to throw in the towel, BUT, He keep me. Salivation is a learning experience, the more you get to know God, and develops that personal relationship with Him. The more secure you are in His word and His love for you, the more secure you are in your salvation and His grace. Its one thing to know you're Bible, but it's another thing to know the God of the Bible, (Matthew McDonald).When you get to know the God of the Bible, then you will develop an image of God, you'll begin to walk and talk like Him, and not that of the world, which is contrary to His word: God said, My people perish from a lack of knowledge. Hosea 4: 6 (KJV). And this educating experience will continue until the day you go to meet Him or He comes to get you.
Encouraging Word:
No matter what you go through in this life, hold on to the truth and that is that God loves you and will never leave nor forsake you, no matter what it feels like or what it looks like, in dew season, it will pass if we faint not, and His Glory will prevail for the good of those that are called according to His glory and purpose in Christ Jesus. Love one another; it's easier to love than it is to carry grudges, envious, resentful or ill feelings towards anyone, which takes up to much energy. Amen?
Favorite Scriptures:
Brethren, I count not myself to have apprehended: but this one thing I do, forgetting those things which are behind, and reaching forth unto those things which are before, 14: I press toward the mark for the prize of the high calling of God in Christ Jesus. Philippians: 3:13-14, (KJV)
I can do all things through Christ which strengthen me. Philippians 4:13, (KJV)
Other:
Don't compare your experiences and blessings on what someone else has, because we are all different, with different needs and wants. God has tailored made blessings just for you. He's Just that kind of God. And don't allow anyone to steal your God given peace, I said allow because the choice is you're to choose.
Email Address
: MissyBro2013@yahoo.com