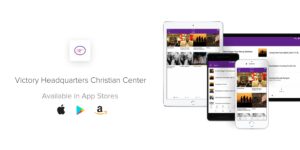 We're grateful to announce that we have expanded our media ministry. Please check us out on Christian World Media for weekly live and scheduled broadcasts. Also, as the ministry is a blessing in your life, please prayerfully consider sowing a seed. You can use the link at the bottom of this page or you can securely "text to give" at
1-256-487-7997
Our prayer is that God Supernaturally Blesses Your Life in Jesus Name!
It is with great joy and expectation that we welcome you to the Victory Headquarters Christian Center. When Edith and I arrived in Anniston, Alabama in the summer of 1994, after spending nearly seven years in the Federal Republic of Germany, we knew that God would allow us to begin and serve a great church. God truly has blessed the VHQCC church family with saints who love God and one another. We are committed to our mission of "Enlightening, Empowering, and Encouraging, all mankind, by Living, Sharing, Teaching and Preaching the Gospel of Jesus Christ." We have experienced first-hand God's ability to Save and Transform lives and families. No matter what path you have traveled to get here, we believe that it is the Providence of God that has led you here. We pray that God will reveal to you the great love that he has for you, and that you will allow us to be instruments of God's grace in your life to help you walk into your Divine Destiny. We believe with all our heart the scripture that God gave us as we sought him for a name for the ministry; 1 John 5:4 "For whatsoever is born of God overcometh the world: and this is the victory that overcometh the world, even our faith. We pray that your faith in God will be stirred as you worship with us in the mighty name of Jesus.
With Much Love From Your Servants In Christ,
Bishop & Lady C.D. Gregory Sr.
Now you can give online to Victory Headquarters Christian Center!!!
Click on the 'GIVE NOW' link below to begin the secure online process, or simply text to give at 1-256-487-7997