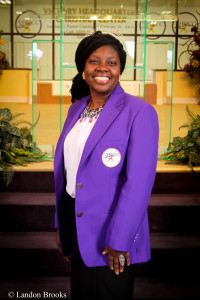 Evangelist Missionary Rita Pope
Aspiring Missionary Rita Pope is the leader of the Greeter's Ministry. She has three children; two sons, Staff Sergeant Antron Pope, and Special Forces Dwain Pope, United States Army; daughter, Fenae Pope B.S. Stillman College & M.S. University of Alabama. She is originally from Munford AL. Currently Sis. Pope is pursuing an Associate Degree in Funeral Service Education at Jefferson State Community College. While in pursuit of this degree; Sis. Pope serves as a care giver in the health field. Sis. Pope serves as an Intercessory Prayer Warrior, Youth Worker, Usher, Prison Ministry, Hospitality Ministry, and the Greeter's Ministry. Sis. Rita Pope was born again during a worship service in August of 1995 while tarrying for the Holy Ghost at the Altar. During the manifested presence of God, she accepted Jesus as her Lord and Savior and was baptized in the Holy Spirit. Her favorite scripture is 1st Corinthians chapter 13 in its entirety.
Aspiring Missionary Rita Pope offers these words of encouragement: Love never fails / The Joy of the Lord is your strength.